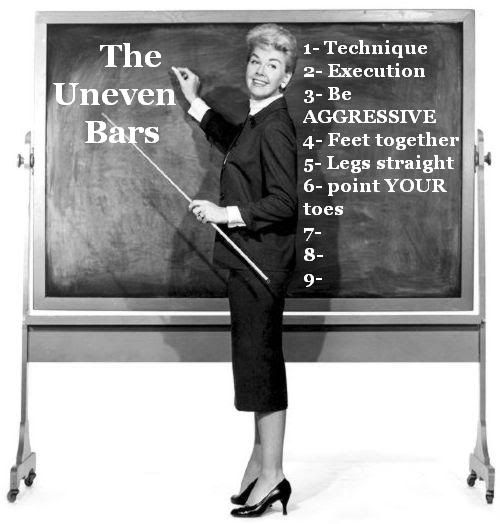 Back in 2004 the US team was severely lacking some legit floor workers. She had a bunch of gymnasts with lower start values that could not consistently hit their dance moves (think Mohini Bardjwa) and in the end it cost the US any chance at a gold medal.
Well here in 2010 the event bringing the US down big time is the Uneven bars and bringing back Nastia for one event is not going to help the US beat China or Russia who have some amazing up and comers on the uneven bars .
Marta needs to hire an uneven bar coach now. The gymnasts she is counting on for the future are not very good at bars. Kyla Ross, Aly Raisman, Jordyn Wieber, Sabrina Vega these are the future of the sport and they are not going to help the US on the one event they really need the help.
It's time for Marta to wake up and fix the situation. She needs to hire an UB coach and take the gymnasts with potential on that event aside and dedicate. A good example of someone she should have done this for last quad was Shawn Johnson. Shawn has great form on bars and she swings the bars very well there is no way she should have gone into the Olympics with a low start value on bars. She was capable of so much more on that event then what she performed.
Right now there is some potential on bars for the future. Macko Caquatto, Cassie Whitcomb, Madison Kocian and McKenzie Wofford come to mind and I am sure there are a lot more. Madison is only 13 so she won't be ready for 2012 but there is gymnastics beyond the next Olympics. Now is time to prepare for this.
Jordyn and Kyla also have potential on the event but as of right now they are not using it. Kyla is young but Jordyn is going to have to improve on bars to beat Komova or Grishina.
Here is Madison at the recent Woga invite. She needs a lot of work but she is pretty good at hitting her handstands. She needs to be pushed on this event more. Right now she is pretty inconsistent overall.