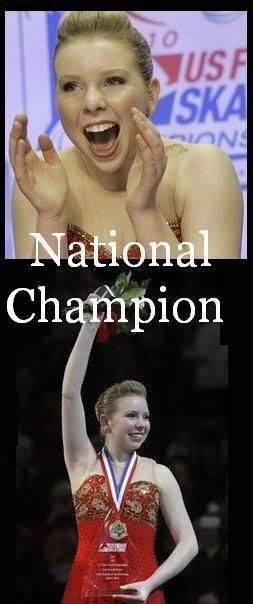 This is like Glee beating out 30 Rock, Entourage and The Office for the Golden Globe Award last week. Those shows are stupid, overrated and liked by critics but us people without the box know full well that Glee rocks! It might not be on HBO or star Tina Fey but it doesn't mean it doesn't have it's good points too.
So I would like to dedicate the song Hate on me sung by the kids from the TV Show Glee to the 2010 United States Figure Skating National Champion Rachael Flatt. Rachael would never say this but I am sure she is thinking it.
FU WORLD. I AM THE NATIONAL CHAMP!!!!!
I am glad Rachael Flatt was finally rewarded for her jumping ability. Yes she was overscored but who isn't at a National Championship? Rachael did what she always does. She went out there and competed and for that she deserves credit. It gives me great joy to see her succeed because it pisses off so many nasty bitter people (Stop laughing people I am not bitter I am opinionated:)
My advice and opinions
Dear Sasha. BYE
I can't say I will miss you. You choked away your free pass to the Olympics and even you knew it after you double footed your second triple jump. You then didn't even bother to give an effort on any of your spins and spirals. Rumor has it you were told hit 4 of your triples (which is why you had next to no jump content in your LP) and you would be in but you couldn't even do that. Shame on you Sasha. Shame on you.
I would like to congratulate you for being mature about your own mistakes but even your hug to Rachael and Mirai were only done for the good of the camera. It was fake. Just like you.
I am glad the judges finally did the right thing and didn't hold you up. It's time to be realistic here. If you couldn't beat Rachael and Marai you were never coming close to a medal at the Olympics. You got the attention you wanted now do the girls all a favor and give them the spotlight they deserve. GO away.
Mirai Nagasu was the anointed winner by Scott Hamilton before the competition was even over but when doesn't that man put his foot in his mouth while commentating? From the Russian/French situation in 02 (before the cheating judges were brought into it) from him calling Michelle Kwan's 1998 Olympic LP cautious when it wasn't Scott Hamilton LOVES to make things up just to hear himself talk. Last night he did it again.
Mirai is a beautiful skater. She has a great personality but she has been downgraded in her jumps all season long and last night was no different and it won't be different in Canada if she doesn't fix the problem.
Watching the pure joy she was having while skating was pretty damn awesome last night and that is what I will remember about her performance.
Uncle Dickie Button needs to go. I have been in full support of Uncle Dick in the past because he always told the truth but like superman he has his kryptonite. That is Sasha Cohen.
In her career whenever Sasha fell or made a mistake Uncle Dickie lied through his teeth to praise her and last night was the final straw for me. Before the competition he was actually preparing the fans watching the broadcast for Sasha winning even if she missed her jumps. Making excuses for the lack of jump content she was planning and mistake that were sure to follow by saying she was scoring points in other ways. I can't condone cheating but this for me pretty much proves that Sasha only needed to stand up her jumps on one foot to get that spot on the Olympic team.
Caroline Zhang: Keep your head up. You still have a lot of talent. Just fix the free leg and come back. You are still young.
Ashley Wagner: Words do not describe how much you annoy me.lol I fully admit it is the Terror Lipinski connection but it isn't just that. The way you acted last night was pretty bad. Openly rooting for skaters to fail was funny when you were doing it to Sasha but Mirai and Rachael deserved better. I get that your upset and I get that you were really just wishing for that spot on the Olympic team but next time do it in private. You made yourself look like a jerk.
Alexe Gilles: I love Alexe. Not her skating but just her. She is just happy to be there. If she could only put it together she has some nice qualities. Good luck
Bebe Liang: Nice to see a clean (for you) long program. I hope you get to go to worlds to give it a shot.
Christina Gao: Cute as a button. Great technique on her jumps. She could be the whole package for the future if a growth spurt doesn't take her out. I look forward to seeing her progress.
Emily Hughes: Your whole career is based on being the other Hughes sister. Judges have their glasses back see ya later:)
And last but not least trucking out your gold medalists at the National Championships seeing Terror Lipinski and Sarah Hughes on that list just made me throw up a little in my mouth. Kristi, Peggy and Dick deserve better company.
Tags: 2010 united states figure skating nationals, glee, marai nagasu, rachael flatt, Sasha Cohen