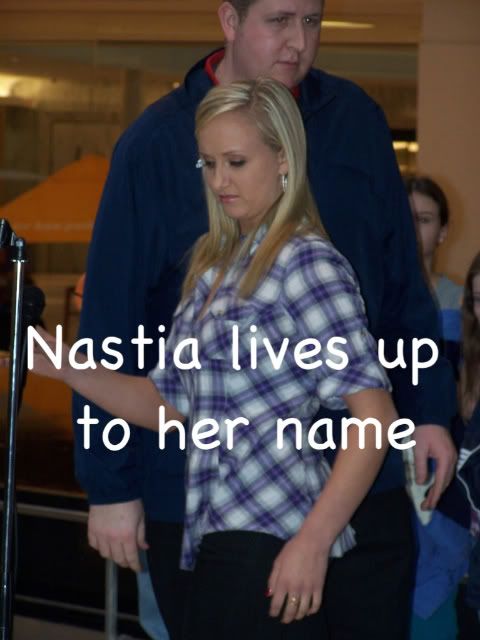 Guess what I did today peeps? I tried something new.
I had heard a few days ago that Nastia was going to be around my neck of the woods at the mall and I decided that I was going to go. Now I changed my mind several times on the matter but late last night I decided to go to this meet and greet to see if my opinion of Nastia was based on what I had heard or based on the fact she is the most over scored gymnast in the history of the sport.
I got there ten minutes before it started. There were only about 100 little girls running around with their parents and that kind of surprised me. USA-Gymnastics tries to make it seem like Nastia is a star but local athlete's even from our pro teams would get thousands of people at events like this. Nastia was lucky if through the first hour there were more then 150 people total at the mall. Even the parking lot was not full.
So back to the juicy stuff.
I sat and watched what was going on for about an hour. I took 3 pictures and this was the only one that came out. What I noticed during my people watch was that Nastia's smile, The one that looks so genuine is 100% phony. She can turn that smile on when she needs to like no one I have ever seen. You are going to see a lot of pictures of her smiling from this event but for the hour I was there that smile was only on her face when she was posing for pictures.
Now I realize that doing these types of things must not be easy. NO ONE can smile for an hour but Nastia should not be doing these meet and greet things if she is going to give dirty looks to everyone.
What I saw while watching this was quite interesting. At one time a teenage girl walked up for her autograph and Nastia looked at her, shoved a piece of paper towards the girl and didn't say a word to her. (she was signing autographs in between people to speed up a line that literally was over in 25 minutes) There were a few professional autograph seekers in the crowd. You could tell who they were because they had the pro photo's already to be signed (one per customer the man standing behind Nastia said to the kids in line) Both of them were men and Nastia did not look too pleased to be signing for them. These were normal looking adults. Not creepy looking (okay one was creepy looking)
I saw a lot of this through the hour. The same blank stare. The same no words. It was a let down. The little kids didn't seem to notice I don't think half of them really knew who she was.
In the end I ended up getting an autograph. I said thank you and that was it. Nastia never said you're welcome to anyone in that line and the only people I saw her being polite to are the ones that talked about how happy they were that she won the all around.
Before the line formed Nastia said a few words and then went and sat down to sign things for people. That is when I took this picture.
I want you all to know that I went there with an open mind. I told myself I want to like Nastia. I want to think she is a nice person that just did some stupid mean things like most teenage girls have done but I left with the same impression I had of her only a few hours ago. She is phony and everything she says and does is an act.
Tags: Gymnastics, Nastia Liukin