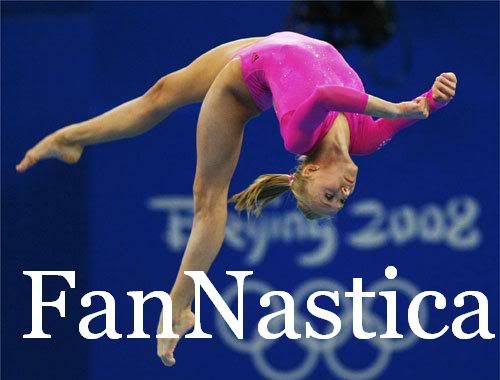 I bet you never thought you would see this happen huh.lol
I am not a fan of Nastia Liukin. I don't like the person. I don't like the gymnastics (even the Uneven bar routine) and I don't like the self entitlement vibe I get from her. That being said as much as her bad form and big mouth annoy the heck out of me Nastia does have a lot, several, okay some nice qualities.
So I am dedicating this blog to the good things about Nastia Liukin. The blog is titled FanNastica (Fantastic and Nastia combined)
I am also going to try and stay away from the subject of Nastia for awhile but that might be hard for me. She tends to do a lot of things that annoy me and I will be at the Nastia Liukin cup in March:)
So here we go…..
5- Her blond hair. I have always wanted blond hair. Damn my parents and their dark heads of hair. So props to Nastia for being a real blond. I realize I should be giving props to Anna and Valeri but whatever. You get what I can give.)
4- Her money. I wanna be rich nanananananana. Seriously her house is gorgeous. The car Daddy gave her for he 16th Birthday is beautiful. Heck everything but that shirt she wore at the meet and greet the other day having to do with material belongings is beautiful in the Liukin family.
3- Her lines on the Uneven bars. I hate her form (leg separations) her pirouetting me to boredom. Her giants, her dismount and everything about her uneven bar routine but the one thing she does have going for her is beautiful lines on that event.
2- Her mother. (I don't like her father) She stays away from competitions. She never runs on the floor mat and yells at the judges for stealing her daughters gold medal. She just quietly supports her daughter without being on my TV screen. It is even endearing that she gets so nervous she can't watch her daughter get overscored . I mean compete.
Number 1- Her bitch face when she doesn't win. I LOVE the bitch face. Sure it's bad sportsmanship but it makes me smile.
That is it for now peeps. Just remember I reserve the right to one day make a blog titled, The 30 things about Nastia Liukin that annoy me.
Tags: Gymnastics, Nastia Liukin