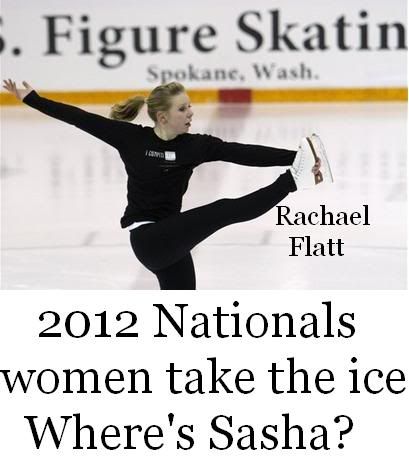 Where is Sasha" The current national champ is already here. Alissa practiced today. Rachael Flatt is here. Marai Nagasu is here too but Sasha is no where to be seen.
Oh I wish this was a case of she had no intentions to show up but no such luck. Sasha is on Sasha time. She will be here tomorrow allegedly at practice where we will probably see her skate around doing spirals on the wrong edge. Sasha can't even bother to be here when everyone else show's up because Sasha is special. She has been handed her entire career on a silver platter because the US judges were just waiting for Michelle Kwan to retire and they needed a new skater to plaster all over the USFSA.org website.
Many people think if Sasha Cohen fall's a part during the SP at Nationals that she will withdraw from the competition. Others think the judges are already to prop her up even if she falls and over score her PCS to make sure she gets the second spot on the Olympic team. I hope she drops out because as bad as the ladies skaters are this year Sasha doesn't deserve a sport based on her name only especially since her entire career has been based on her potential and nothing she actually deserved to accomplish.
Her silver medal at the last Olympics was a travesty and it proved that the new code is a joke.
I don't want to begrudge Sasha all of her career. I mean she did go to practice every day getting up earlier then I ever plan on getting up in my life but it wasn't that hard for Sasha with daddy footing the bill.
Did you guess I am not a Sasha fan? Maybe it's the Nastia self entitled attitude. Maybe it's the bitch Russian in her. Nah it's more like the bad attitude. Sasha has been known to skate to close to her competitors in warm ups trying to ruin their performance. She did it to Jenny Kirk a few years ago and she did it to Michelle Kwan also.
Sasha is what I like to refer to as a bad egg. (or maybe I just stole that from Kwanette)
Nationals starts this weekend. Should be interesting to see if the judges hold Sasha up again or if they do the right thing and take the skater deserving to go. For some reason I just canNOT trust the judges.
Tags: alexe gilles, Michelle Kwan, rachael flatt, Sasha Cohen, us figure skating nationals